30. Disease: Cats Protection
There is a high risk of infectious diseases in the rescue environment due to the high throughput of many cats from different sources and backgrounds. Some will have been vaccinated and some won't. Some will be disease carriers but may appear healthy, others will be outwardly sick.
Stress suppresses the immune system so carriers often begin to show signs of disease once in the environment and they may start to shed more infectious disease organisms.
Other stress-related disorders such as over-grooming and urinary tract infections may manifest.
As the human population is living longer, so are cats. Cats Protection has older cats in care that may have age-related conditions such as hyperthyroidism or renal disease.
Reducing the risk
At Cats Protection we have a number of vital measures in place to reduce stress and the risk of infectious disease. As well as providing enrichment appropriate to the individual cat, we give all cats places to hide and elevated perches to allow them to adjust to the new environment and reduce stress. Our cleaning protocols use appropriate disinfectants and barrier nursing where necessary. This ensures that infectious disease risk is minimised.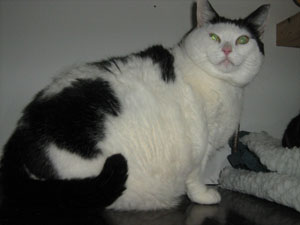 Obesity is a growing welfare problem in pets in the UK. Obese cats that are relinquished to Cats Protection require veterinary care and a carefully managed weight loss programme.
Image author - Cats Protection/Dereham Adoption Centre , licence -
CC BY-NC-ND 2.0
A text transcript is available for this video
(this link will open in a new window).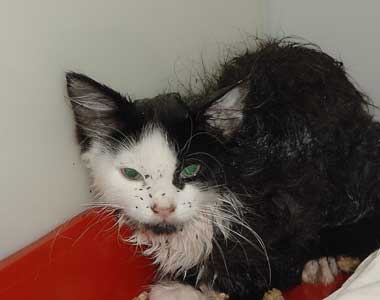 This photo shows a kitten that has fleas on its face.
Image author - Cats Protection/Wrexham Adoption Centre, licence -
CC BY-NC-ND 2.0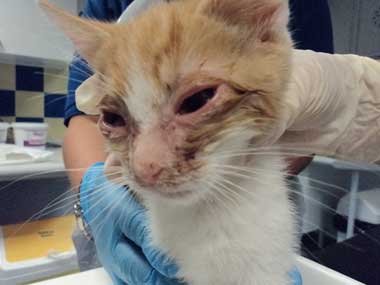 This cat is being treated for cat flu.
Image author - Cats Protection/VET Team, licence -
CC BY-NC-ND 2.0