26. Reproduction: domestic cat
Cats can become sexually active from four months of age and therefore Cats Protection recommends neutering at four months of age to prevent unwanted litters.
Queens do not need to have one litter before they are neutered although this is a commonly held belief.
Kittens need positive exposure to a range of domestic scents, sights and sounds to help them cope well in later life.

Did you know that there is a kitten season? Female cats are triggered to show oestrus behaviour as days lengthen, and kittens are usually born between the months of April to October.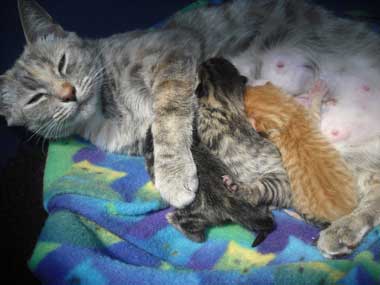 With veterinary care and better nutrition, kitten mortality is much lower than in the wild.
Image author - Cats Protection/Barnstaple and District Branch , licence -
CC BY-NC-ND 2.0

Neutering Guide

Download PDF (this link will open in a new window)

You will need Adobe Reader in order to view these PDFs.


View all the Cats Protection Essential Guides






How to tell if my cat is pregnant

Watch the video (this link will open in a new window)