15. Avoiding stress and conflict: Cats Protection
On first entering CP, cats are often stressed and need to be able to hide, climb and rest up high.
Different cats adapt to new situations at different rates and this should be monitored individually.
Cats like a routine/predictable environment and after adaptation to a new environment, still favour routine, but with some novelty. Novelty can be provided by giving them a variety of toys during the course of their stay.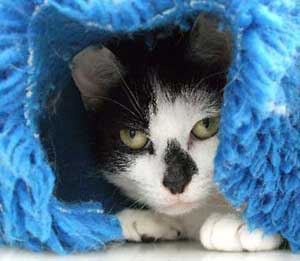 Image author - Cats Protection/Nottingham Adoption Centre, licence -
CC BY-NC-ND 2.0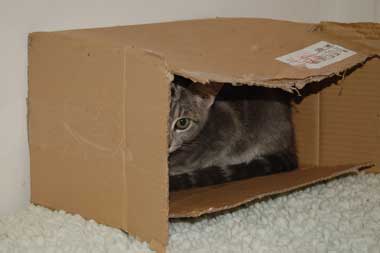 Image author - Cats Protection/VET Team, licence -
CC BY-NC-ND 2.0
All cats need to be given opportunities to hide. Cardboard boxes are great in the shelter environment as they are cheap, freely available and disposable for infectious disease control.
Video above (no sound): When cats are unable to hide, run away, or get up high, they are forced to show aggressive behaviour when confronted.